I don't have green-fingers: my gardening friend has – and a few years back he renewed his interest in carnations and found they were no longer easily attainable in New Zealand. He imported a wide range of varieties to replenish stocks, including some of the classics, and the cuttings arrived from the UK as air-freight in less than 48 hours. I was asking who originally imported carnations to  New Zealand, and how? Especially plants that had months at sea before reaching the Antipodes.  
A Reminder of Home
New Zealand's earliest settlers, wherever possible, wanted their new home to have all the best of what they had left behind, half a world away, in the UK. Good breeding animals, best seeds, latest machinery, experienced farmers and scientific advances were essential early imports because the land in the new colony was found suitable for extensive farming. Vegetables for the table weren't overlooked: neither were flowers in the garden.
Within a few years gardeners and nurserymen among the colonists had formed gardening clubs or circles, bringing together those interested in horticulture.  These were among the first organisations in New Zealand and by the early 1840s had been formed in several settlements… Wellington in 1841, Auckland the following year, Christchurch Horticultural Society held its first show in November 1852 and Otago's was staged in 1859.
These horticultural societies are among New Zealand's oldest surviving clubs.
Early Imports
Even before the formation of horticultural societies London nurserymen were advertising in local newspapers.
The new societies had, as one of their objectives, the importation new varieties to widen the range of fruits, vegetables and flowers in the colony, thus augmenting and enhancing those brought out on first ships. Members could now add their individual needs to the bulk orders that Societies placed with overseas nurseries, sharing costs.
Remarkably, plants (rather than seeds) could be ordered from the other side of the world: delivery times were measured in months rather than weeks entirely dependent on shipping schedules along with sea and weather conditions en route.
The Wellington Horticulture Society had an arrangement with nurserymen Messres Conrad Loddiges & Sons of Hackney, near London, who carefully packed the plants in "boxes" (described below) for the long shipment to New Zealand. Loddiges requested the "boxes" be returned to England filled with local specimens "the articles we wish for are conifers, orchids such as grow on trees, and ferns… after planting pray let the earth be as wet as possible and see that the glass is mended, and the whole is air tight and, above all, ensure the "boxes" be placed on deck for the whole of the voyage".
In these early shipments Loddiges satisfied colonists' orders for all kinds of flowering plants.
The request by Loddiges Nurseries to send them plants from New Zealand would not have been surprising: since the 1770s the company's founder Joachim Loddiges specialised in the collection, recording and growing of exotic species, introducing a range of plants to England including Rhubarb, the Common Rhododendron, the black-stalked Bamboo and numerous palms and ferns.
Help for the Colonies
Loddiges usually dealt in seeds but an invention in the 1830s by medical practitioner Nathaniel Ward found a way to reduce the risk of sending growing plants on sailing ships travelling across the Atlantic or on much longer voyages, more than 6 months, to and from the Antipodes.
These were the "boxes" referred to in Loddiges' letter to Wellington. Dr Ward, greatly interested in botany, was surprised to find that plants thrived in air-tight glass bottles. But if the bung was left out or got damaged, the exposure to London's foul air killed off the vegetation. He scaled up the airtight glass cabinets and after further experimentation found that as well as local applications of his invention, those plants inside survived long sea journeys despite passing through salt-laden air and the hot sun of the tropics.
Known as the Wardian Glazed Case or Box, Loddiges (under management of Joachim's son George) perfected their use to transport plants to and from Australia and New Zealand. Hence the request from Loddiges to Wellington growers asking for the return of at least seven "boxes" (they could not have been inexpensive to manufacture) asking for plants from New Zealand with a reminder that the "boxes" must be repaired if broken so that the glass was airtight, and they should start out on the long voyage after being generously watered.  They would need additional watering en route.
Nathan Ward's discovery meant plants could be transhipped around the United Kingdom, trans- Atlantic and between continents. Tea plants were consigned in Wardian Cases from China to India, staring or improving varieties there.  Much later… 1920s… cycads were sent in Wardian Cases from Queensland, Australia, to Missouri Botanic Gardens.
Carnations Catch On
Whether imported by seed or living plants, it was not long before Carnations started appearing in flower show competitions at Horticultural shows. In Auckland in 1843 the Government Gardener won the prize for his Clove Carnation. The Society noted in its first annual report that "…no country in the world seems to be better adapted to horticulture than New Zealand, the alternations of shower and sunshine that characterize the climate for a great part of the year, cause a most surprising vegetation"
In 1852 the Wellington Society was moved to report "…it's suitable time for the planting of roses, fuschias, holyhocks, dahlias, chrysanthemums, pinks, carnations, and the many other varieties of biennial and perennial herbaceous flowering plants, of which the settlement, young as it is, already contains a very creditable collection".
Links with England
Christchurch Horticultural Society seemed to have a direct line to English Carnation growers. A retrospective paper presented to the Society in 1895 acknowledges much earlier help from well-known nurserymen in England, Ephraim Symes Dodwell and Charles Turmer, to obtain quality seed. No doubt some of the carnations imported in this way were the work of other noted English growers such as J. L. Puxley, John Rea, J.S. Hedderley and B. Simonite.
Christchurch nurseryman John Greenaway imported the first batch of "florist's flowers"; among the carnations were "Britisher", "Conquest", "Emperor", "Edmund Papworth", "P. C. East", "Guardsman"  and "James Douglas", the last-named honouring another well-known English carnation propagator, grower, and writer. It was Douglas who had been asked by other fanciers, mainly Martin R. Smith, to "distribute carnations throughout the British Empire" so New Zealand was, of course, on his list to help.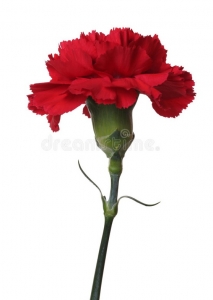 His Christchurch contact, John Greenaway, was not only a successful nurseryman and great supporter of the Carnation, but he frequently took prizes at various flower shows with names such as Maori Chief and Rifleman as well as those earlier imported. He also had a soft spot for picotee varieties. John Greenaway  was Secretary of the Canterbury Horticultural Society for many years.
Perfection after Selection
As those who engaged with growing from seed will know, it is an exhausting labour, often without satisfactory results. After the topic was discussed in Sydney newspapers in 1905, the Secretary of the New South Wales Carnation Society, Mr A. S. Pier, set out success rates: "… to give a personal example of the strict selection that does and must take place in order to get the best, from 900 of this year's bred to line seedling carnation, I selected but 17 worth growing on. The careful selection by nurserymen means that carnations in Australia now are just on perfection". New Zealand must have benefitted from this selective process with a fair chance of exhibition bloom.
Gillyflowers… or Carnations?
Some carnations reached New Zealand referred to as the Gillyflower, an old name going back to at least Tudor times, sometimes written earlier as Gilloflower and Gilliflower. In the Illustrated Edition of the English Book in 1580 Humfrey Gifford described "A Posy of Gilloflowers, each differing from other in colour and odour, yet all sweet".
The plant claims a place in English literature.
Jonathan Swift, referring to blooms with clove qualities used during brewing wrote-
"The Girl returned instantly with a beer-glass half full
of Aqua Mirabilis and Syrup of Gillyflowers"
Geoffrey Chaucer in Canterbury Tales mentions-
"… and many a gillyflower and nutmeg for to put in ale…"
Edmund Spenser, happy in love, describes his lover's lips as-
"…smelling like unto Gillyflowers"
William Shakespeare in A Winter's Tale complimented the blooms-
"… The fairest flowers o' the season
Are our carnations and streaked gillyflowers…"
 It's noted that Shakespeare mentions both carnations and gillyflowers, for over the centuries there appears to have been some argument about which varieties comprise Gillyflowers.  The common Stock, the Wallflower, the Rocket, the Clove Pink, and several other plants were once in the group often called Gillyflowers, notably with the Latin, caryophyllum, meaning the Clove Gillyflower. One authority says Gillyflower was the name given to any variety with clove scent. Perhaps over the years the distinct clove aroma has endured with the carnation, not so much with others. Carnations have always had the Latin caryophyllum, prefixed by Dianthus. This apparently derives from ancient Greece when botanist Theophrastus coined the name from the Greek words for divine, "dios", and flower "anthos", the Flower of God.  The argument about what, exactly, may be called a Gillyflower went on for years. In 1883 an article in Australian newspapers tried to resolve matters. "For my own part" the columnist said, "I am of opinion that people who apply the term gillyflower to the wallflower are certainly in error… correctly speaking, the prefix should be used, in order that confusion maybe avoided as to whether the clove pink, or stock gillyflower is meant, giving them the true, good old English names they were then known by".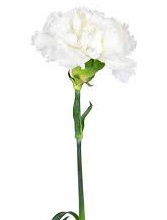 Local Argument
The question played out much later in the columns of the New Zealand Herald. In 1932 J. H Hayes wrote to the Editor correcting an earlier article. "The Gillyflower of the Old Land (England) is not, and never was, a carnation". The next day well-known local writer Frank H. Bodle put another view "Gillyflower comes from the original French "girofle', a clove, and anything clove-scented was formerly a gillyflower. Thus the New Zealand wallflower, if it has lost its clove scent, is no longer a gillyflower and the carnation, which retains it, certainly is".
The Name of the name Carnation itself, some scholars say it derives from "coronation" or "corone", a garland of flowers, as it was one of the blooms used in Greek ceremonial crowns. Others believe Carnation stems from the Latin "caro" (genitive "carnis") or flesh, the original colour of the flower. Another view is that it refers to the incarnation of God made flesh.  
Australian Influences – Carnations seem to have been grown in Australia from a very early date in its colonisation… in 1804 The Sydney Gazette and New South Wales Advertiser , gave advice to gardeners in an article probably reprinted from the English Press , when it stated  "In the common potatoe (sic), for example, we find that plants obtained from seeds are disposed to spore infinitely, and none of the progeny can ever be expected to be found exactly of the same kind with the parent stock; so that if that stock be not propagated otherwise than by seeds, it will be lost never to be recovered. Many plants belong to this class, as pinks, carnations, &c." In 1829 the same newspaper encouraged pioneering gardeners with "Pinks, Carnations, Myrtles, Roses (particularly the delicate green-house rose, Rosa sempervirens), have been successfully struck by putting into the striking pots, first, a layer of fresh horse dung, free from straw, in which latter the cuttings are planted. A chip of brick, or a bit of cinder, placed so as to keep the end of the cutting firm and give it stimulus, would be an improvement.  In the 1840s some syndicated gardening notes advised Australian newspaper readers that "some New Zealand growers use a little salt as a stimulant for Carnations which in addition", they said, "keeps away pests like slugs and snails. The Carnation is a native of the coastline and benefits from salt". Sufficient Carnations were being grown in Hobart by 1841 for the local Horticultural Society, at its second annual show, to include a new class: "Best Collection of Carnations".
The strong uptake of Carnation growing across the Tasman meant availability of seed, maybe cuttings, for New Zealand growers. Commercial growers weren't slow to market their goods. In 1851 Charles Giles addressed an advertisement in the Adelaide Observer to "Those Persons Forming Gardens" and among a long list of various fruit trees, vegetables and flowers he said he had "Twenty Thousand Carnations, Pinks and Picotees for sale". It may have been an exaggeration! By the 1860s Sydney nurseryman, too, were frequently advertising in newspapers offering Carnation seed for sale in a "wide range of colours".  flowers for fundraising The popularity of the form of the Carnation flower was quickly taken up by those who set fashion trends for wedding gowns and costume outfits. In 1848 a reprint in local newspapers from Ladies' Magazine of Fashion advised followers "For evening dress white predominates, tarlatanes with deep flounces pinked, and ornaments of natural flowers, white crepe with triple skirts quite plain, and white taffetas relieved by carnations".
New Zealand Takes the Lead
The early dates of the founding of Horticultural Societies in New Zealand with records of carnations being shown competitively in the 1840s means the variety was being grown here before the Carnation made its debut in 1852 on Long Island: its introduction to the United States of America.It wasn't long before climate, experimentation and determination meant new varieties. Typical newspaper column heading, 1850s "During the last two years," writes an English gardener reprinted in the Marlborough Express, at the turn of the century, "I have had much to do with American Carnations and I have no hesitation in saying that the American varieties, such as Fair Maid, Florida, Enchantress, and Mrs T. Lawson are much superior to any English varieties I have seen. They are not only non-splitters, but they are strong in the stems, which are longer than English varieties, and that is a point of considerable importance to decorators, and what is pleasing too, they are deliciously fragrant."
New Zealand gardeners and exhibitors was also well up with progress of the Carnation and new varieties… well, according to J. G. Davis, who addressed the Christchurch Horticultural Society in 1905. He opined that the modern history of the flower dated from July 25, 1850, when the first proper exhibition in the South of England took place in the Royal Nurseries at Slough, and the National Carnation and Picotee Society was formally founded. "From this time" he said, "the improvement in the carnation made leaps and bounds, and the art of floriculture, sometimes despised with a reprehensible degree of fastidiousness, has in this instance transformed a plant, comparatively obscure, into one of the most beautiful and delightful charms which the lap of Flora contains". Exhibitions of carnations pre-date Mr Davis' timeline.
By 1862 Carnations had been so well established here that local nurserymen were advertising many named varieties. Cochrane and Brother, in Auckland's Fort Street, for instance offered carnations for sale… by auction. Mr Cochrane obviously sought best possible returns and stipulated "Terms – Cash"!
Northland gardeners were enticed to grow Carnations in 1893 when the Gardeners' Notes in the Northerrn Advocate newspaper noted… "Among new and standard varieties worthy of a place in everybody's garden are the ever-blooming Carnation pinks".
It was not very long before sports were given and local names, unmistakeably New Zealand, began to be heard in carnation circles such as "Kea", "Ka-Ka", "Miro Miro" and "Toi Toi".
Keeping Up With Trends
In the late 1800s two new Carnations were heralded in most of New Zealand's newspaper gardening columns.  A new pink carnation, "Aurora" was announced in 1893, a prize winner as the finest pink variety at the Madison Square Garden Show in New York… "a vigorous grower of large, well-formed flowers of a pure pink hue and with a fine fragrance. "Puritan" was also introduced…" a new white carnation, is especially valuable for the lasting, quality of its cut flowers, and then there's a new yellow, "Golden Triumph". Not to be outdone, English growers made their own headlines in gardening circles when, according to aficionados "…undoubtedly the finest carnation that has been offered to the gardening world for many years" was listed, "'Uriah Pike' is a lovely crimson-maroon in colour, of splendid habit, a vigorous grower, and most profuse bloomer, strong clove-scented, and throwing its perfect formed flowers on long stems, which is an indispensable quality; the calyx does not split, and it resists disease. It has been awarded a certificate of merit and a medal from the Royal Botanical Society. Florists acknowledge "Uriah Pike" to be the finest carnation for all floral decorations, its lasting proclivities in a cut state being marvellous. It is now offered for the first time to those requiring a genuine novelty"It was from the early 1900s that either Rose and Carnation or Carnation Clubs morphed from, but retained association with, Horticultural Clubs. In Wellington it was found "there was room" for a Rose and Carnation Society which had its own show from 1905. But there was apparently "room" for other flowers within these groups… those attending a meeting of the Hutt Valley Rose and Carnation Club in September 1907 saw an exhibition of anemones, hyacinths, and freesias accompanied by "…Dr Perry's interesting paper on the cultivation of daffodils and how to exhibit them".
Roses and Carnations had been left out!
Sources
Modern carnation bloom : Wikipedia, Fundraising through Flowers, Victory Blooms, Yates Australia, Walmart
National Library of New Zealand – Papers Past
© RCC January 2015